Asleep in Aeon by R-Lex
This is a Coil mix I made last night in tribute to Peter Christopherson. Tracklisting is on the Soundcloud page.
Hush; may I ask you all for silence?
The dreamer is still asleep
May the goddess keep us from single vision
And Newton's sleep
The dreamer is still asleep
The dreamer is still asleep
He's inventing landscapes in their magnetic field
Working out a means of escape
We'll cut across the crop circles
The seer says no
Not much time left for these escape attempts
Look at it this way
In ten years' time
Who'll care? Who'll even remember?
One dies like that, deep within it
Almost inside it
It's there for a reason
I'll give you my old address
And take that little book
To tear and cut the paper
The beginning is also the end
Time defines it, time defines it
It will end
Like close friendship
Nothing could be further
We forget the space between people and things
Is empty
We forget, and don't notice the loss
Crossing into venerable degeneration
Such radiant pollution
The god with the silver hand surveys this vast contamination
The dreamer is still dreaming
The dreamer is still dreaming
In the heart of your heart
Your eye remains
Is that hurt you? Is that blister you call loveless?
Your whole life is a cold slow shock
Your whole life is a cold slow shock
Take all your time
Track the shabby shadow down
Through hissy mists of history
The dreamer is still dreaming
The dreamer is still dreaming
Hush; may I ask you all for silence?
Will he wake in time to catch the sunset?
Hush; may I ask you all for silent?
May I ask you all for silent?
RIP Sleazy 1955-2010. At play in aeon.
audrawilliams
,
twiin
and
littlegirltoast
Fill in the blank:
"Hey R-Lex, what is your favorite _______?"
Ask and I'll answer!
From my pals
Festival Kinetik 2010
. I'm over the moon, seriously.
I ain't wanted to say anything until it was announced in some official way, but here it is: myself and DJ Pandemonium will be DJing at
Sin City Hallowe'en, for real!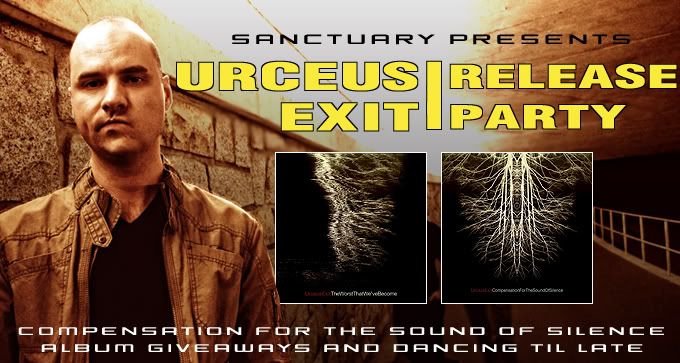 SANCTUARY PRESENTS
URCEUS EXIT "COMPENSATION FOR THE SOUND OF SILENCE" ALBUM RELEASE PARTY!
SATURDAY SEPTEMBER 19 / CLUB 23 WEST / 5$ COVER DRESSED UP, 6$ IN PLAINCLOTHES
Featuring a full preview of the record between 9:30 and 10:30 and prize giveaways throughout the night! Plus your DJs R-Lex and Contrasoma with special guest DJ Manos raining terror on the dancefloor all night long!
Additionally, Skank will have two for one cover with a ticket stub from either the Revolting Cocks or Pet Shop Boys shows happening tonight! As always cover is also two for one with a cab receipt and free before 10 p.m. (11 p.m. for Students.)
Some of what you can expect to hear tonight:
Urceus Exit, Revolting Cocks, Pet Shop Boys, Aesthetic Perfection, Memmaker, Prodigy, Skinny Puppy, Combichrist, Pop Will Eat Itself, Rotersand, The Presets, The Chameleons UK, IAMX, Marilyn Manson, Neuroticfish, Project Pitchfork, Colony 5, Christian Death, Nick Cave & The Bad Seeds, The Jesus & Mary Chain, Seabound and more!
We'll see you there!
You can check out a post (including playlist) I made on usenet about it right here
. Aside from a six month period when I first moved to Vancouver in 2004, I've been playing pretty regularly ever since. I've had some detours, got into some bad habits and been involved in more failed nights then I'd care to mention. But I'm still at it, still love doing it and am proud to have residences at two of Vancouver's most prestigious and longest-running alternative nights. That first night was 10 years ago, exactly. Tonight me and DJ Pandemonium are gonna leave the dancefloor at Celebrities a smoking ruin. Love & Sex & Industrial is a special party for me, a decade in the game and still loving every minute of it. Mad love to DJ John MacMaster for getting me started and for teaching me so much. Love to DJs Rune, Tobias and Miss Hell for being my early partners in crime, and to the Blender crew for my first Vancouver residency. Special love to my brother DJ Contrasoma for constantly making me step my game up just to keep pace with him, La Gotha Nostra fool. Love to DJ Catherinna, and Betti Forde and the other Sin peeps for making the parties so wild. And a thousand thank yous to DJ Pandemonium, who's tireless efforts and support keep making it happen in Van City and for me personally. And as dopey as it sounds, thanks to everyone who danced, or made a request or asked after a song. Hallelujah, kid.
My first time ever DJing for a dancefloor was at a shitty little indoor skatepark in Haifax, right across from where I went to High School.